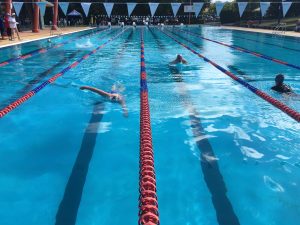 The weather report says it's going to be a lousy day outside, but it will be nice and warm at the Lakeside Leisure Centre where we will be swimming in style for fun on Sunday 4 June.
The Tuggeranong Vikings have booked enough lanes for everyone, the cheer squad's all ready to go, there's raffles, afternoon tea, and lots of fun.
Entries for competitors are now closed, but you can still come along and watch (and help if you like).
Swimmers can swim up to four individual events plus a relay.  They can have a go at something they've never swum before – and swim a PB!  It's that easy!
Come and join us!