From the 21-23 May veteran sun-lover, club vice-president and registrar, John Collis braved the warmth and sun to compete in the Great Barrier Reef Masters Games GBRMG). This was no mystery to John who attended high school in Cairns and has competed in these Games twice before. In 2017 John, who was at the young end of his age group, scored 3 firsts and 3 new records, one second and one third and was awarded "Male Swimmer of the Meet". Then in 2019 John scored one first (a new record) and five second places but left before the meet finished to attend his 50th school anniversary. However Molonglo scored "Male Swimmer of the Meet" for a second time with treasurer Gary Stutsel scoring 9 individual firsts and 9 new records.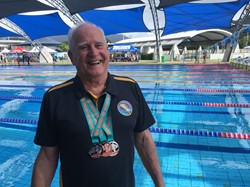 John Collis displays his medals at Tobruk Pool, Cairns, 2021
The GBRMG swim meet was held in the magnificent Tobruk Memorial Pool and this year attracted over 270 swimmers from Masters clubs around Australia plus a number of unattached swimmers. There were 24 events including male, femal and mixed rfreeestyle and medley relays. Swimmers could contest four relays but only 9 of the 18 individual events.
There were five ACT swimmers competing, Molonglo's John, Tuggeranong's Donna Campbell, Lesley de Lorenzo and Caroline Makin plus former Tuggeranong swimmer now unattached Ron Watkins. Caroline, who swam in the maximum allowed nine individual events, won six and had two seconds and a third. Donna competed in seven events and Lesley four but the best placing they could manage was Donna's fourth in the 200m Breaststroke.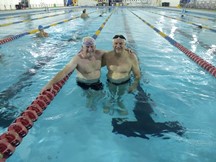 John Collis (left), Gary Stutsel (right)
Now the oldest swimmer in his 65-69 age group John swam five events two finish with two seconds, one third, one fourth and a fifth. His times were
| | | |
| --- | --- | --- |
|    50m Backstroke | 45.35   3rd | 100m Backstroke    1:39.95      4th |
|    50m Breaststroke | 43.70   5th | 100m Breaststroke  1:37.79      2nd |
|  200m Breaststroke | 3:43.10   2nd | |
John is looking forward to the 2023 GBRMG in Cairns as he will then once again be at the young end of a new age group. While Gary who will still be in the 80-84 group was surprised to see that none of his nine records were broken.
If you would like to compete in Cairns or at any of the many Masters Games and Masters Swimming competitions around NSW and Australia, talk to John or Gary as they have both competed widely and would be happy to share their experiences with you.