Geoff Llewellyn, 88, completed the last of the 62 Endurance 1000 program swims on Thursday the 10th June.
Is Geoff the first in Australia to complete the 2021 Endurance program?
In 2012 at the age of 79 Geoff was the first recorded swimmer to complete all swims in the 2012 Endurance program, so this would be the second recorded occasion he has achieved this great milestone (sorry I meant metrestone).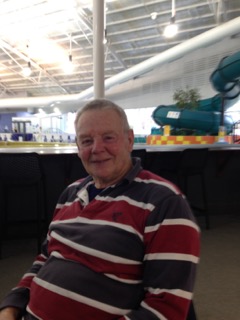 Geoff, the oldest member of the Molonglo Water Dragons Club in Canberra, has completed all swims every year since 2007 the first year that Canberra clubs were affiliated to the MSNSW branch. That means that Geoff has won 20 towels for completing every swim, often with maximum points.
A very modest swimmer, Geoff says the only reason he can complete the 400m and 800m butterfly swims is because he has a medical disability certificate that exempts him from having to clear the water with his arms every stroke.
Geoff now has to find a new challenge for the rest of 2021, although no doubt he will now train for the Lake swim in November and record times for the 3000m and 5000m swims in freestyle and backstroke. He intends to continue "mothering" the little band of distance swimmers he meets with twice a week at the AIS (Thursdays) and CISAC (Tuesdays) pools in Canberra. They meet at 10am and if ever you are are more than welcome to attend whenever you have the time.