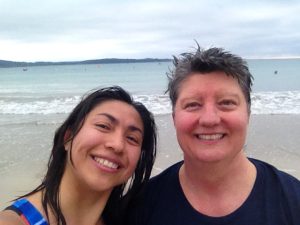 Two intrepid Molonglo megasaurs made a splash in the ocean at the recent ocean swim – the Hotondo Broulee bay to breakers. A grey and choppy sea didn't stop Viri and Debbie doing times just over 30 minutes. Well done girls!
Here is what Debbie had to say:
Lovely event – very friendly group, beautiful spot, top safety (including the helicopter spotting for sharks!).
This year the usual course from Shark Bay heading out south around the reef headland then finishing at South Broulee patrolled beach couldn't be followed because the conditions were too rough.
It would have meant trying to swim out through a line of 1-2 m high waves off the headland after we were about 600 m into the swim.
Instead there was an alternative course that started and finished off North Broulee beach.
Great! I thought, this should be easier than last year swimming round the headland.
Wrong!
For one thing they made the course longer – not sure they meant to! – it was later confirmed the official distance was 1.6 km instead of the usual 1.4 km.
And there was an incoming tide – the first, longest leg was just a straight swim out slogging all the way against the tide.
And there was quite a big swell – which meant I was often ploughing through a rising wall of water in front of me instead of a flat surface like the swimming pool – and it made it really hard to keep your bearings on spotting where exactly is that buoy that I'm trying to swim to?
In fact everyone found it hard to keep spotting their bearings – even in the Open (best swimmers!) event, quite a few of the swimmers were heading off at wild tangents to where they were supposed to be going, and the surf ski guys had to shepherd them back on course.
All in all very satisfying to finish this challenge. I'm really happy with my time which shows improvement compared to last year (I did similar time to last year but the course was longer and more difficult this year).
The next day – with calm conditions that would have been perfect for the race the day before! – we relaxed in the surf at South Broulee beach before heading back to Canberra.
Everyone should come next year!
PS I had no trouble finding accommodation – rented a house 10 minutes walk from South Broulee – $125 a night.
Debbie Newton