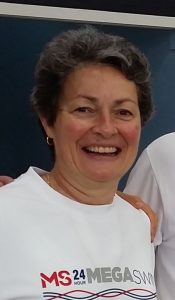 Molonglo Water Dragons swimmer Marg Larkin has joined the million metres club. What a whale of an effort Marg! Marg has been clocking up the kilometres and achieving this important 'watermark' received a Masters Swimming Vorgee Million Metres polo shirt and certificate.
Vorgee Million Metre Awards acknowledge progress from the "learn to swim" beginner to the distance swimmer. These awards are intended to stimulate members to strive for greater fitness and are open to all registered members of Masters Swimming Australia.
…and now on to 2 million metres Marg!