80 year old Gary Stutsel was the only Molonglo Water Dragons swimmer to contest the Masters Swimming NSW Short Course Championships held at the Woy Woy Pool on the weekend of the 12th and 13th October.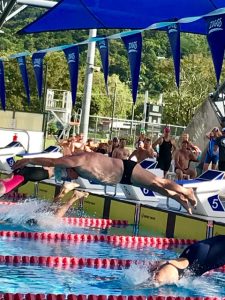 Gary swam with the Tuggeranong Vikings team and competed in three of the five relay events contested by the Vikings. The teams scored one first place, three seconds and a fourth, all in the 200 plus age group. Gary's swims were in the Men's 4 x 50m Freestyle (4th), the Mixed 4 x 50m Medley (1st) where he led off in the backstroke leg in 49.50 seconds, 1.70 faster than his individual swim and the 4 x 50m Mixed Medley where he swam the freestyle leg in 35.87 seconds , 1.44 seconds faster than his individual Freeestyle swim.
Gary contested the maximum allowed five individual events scoring top points in each of the five for a total of 50 points. This placed him equal first with Manly's Tony Goodwin in the 80-84 Age group.
The Vikings finished 4th of 34 clubs in the Club Total Points score with 584 points from its 11 swimmers behind Warringah 1169 (25 swimmers), Manly 994 (19), and Wett Ones 847 (22). In all 250 plus swimmers from the 34 clubs competed on the weekend.
Quality won over quantity in the Average Points per club competition with the Vikings averaging 53.09 points to take the trophy. Runners up were Manly (average 52.32) and Raymond Terrace (51.20).
We are looking forward to seeing much greater participation from Molonglo swimmers at the Masters National Championships in Sydney next April and the Spring Championships at the AIS Pool next October.