The Sri Chinmoy Lake Swim is swum each year over three distance options: 5km, 2.5km and 500m. Age groups are under 50 50-59, 60-69, and 70 and over for the 2.5km and 5km and under 13, under 17, and 17 and over for the 500 metres swim.
The 34th annual swim was held last Sunday 23rd February, on a clear morning, however the lake was not so clear. Instead of being swum over the usual 2.5km course at Yarralumla Bay the swim had to be moved to a 1.25km course starting and finishing at the Acton Ferry Terminal.
Four of our members and several Vikings swimmers contested this year's events with all four finishing in a place. For the Vikings results see their website, but our members, Brendon Tasker, Alex Grove, Tim Booth and Geoff Llewellyn, all of whom swam without a wetsuit, are shown below.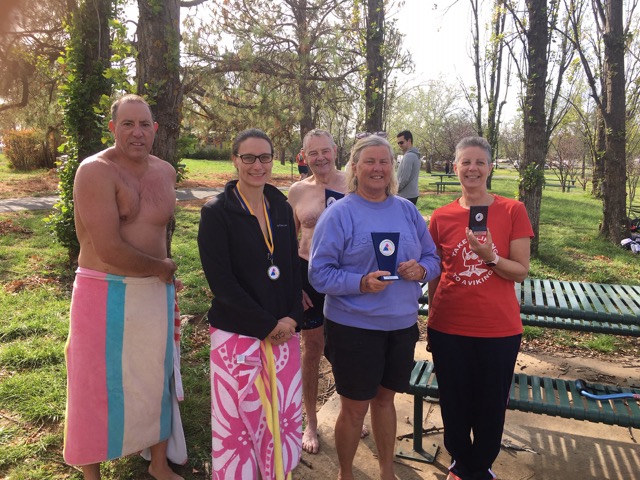 Geoff and Tim both contested the 2.5km event with Geoff finishing in 1 hour 26 minutes and 44 seconds to win the over 70 division. Geoff is in the 85-89 group in Masters. Tim was narrowly edged into second place in the 60-69 age 2.5km event, only 25 seconds behind first place. Tim swam 48 minutes 54 seconds. He still holds the record of 43 minutes 27 seconds for this age group.
Swimming against much younger competitors Alex was 3rd of nine swimmers in her 17 and over 500m event swimming 10 minutes and 31 seconds. Well done Alex.
Ironman Brendon was our only contestant in the 5km swim and he finished 3rd in the under 50 event in 1 hour 32 minutes and 52 seconds. The contestants enjoyed a pancake breakfast after leaving the water.
The presentations were made by Andrew Leigh the member for Fenner in our Commonwealth Parliament. Pictured are second from left Alex Grove and half-hidden behind Geoff Llewellyn.
In late November or early December each year, the Sri Chinmoy National Capital Swim is staged along the full 9 km length of Lake Burley Griffin for solo swimmers and relay teams of 4.