Two years ago Molonglo Water Dragons President John Collis was awarded Male Swimmer of the Meet at the 2017 Great Barrier Reef Masters Games. John had swum three first places, each in record time, plus a second and a third to score better than any other male.
John returned to Cairns recently for the 2019 Games along with Gary Stutsel. This time John's efforts were frustrated by Paul Gibson, of Darwin, a newcomer to the Games. John finished the meet with one gold (and a new record in the 50m Breaststroke) and five silver medals from the 50m and 100m Backstroke, the 100m and 200m Breaststroke and the 200m Individual Medley. Unfortunately John could not swim the maximum nine events as he had to leave early to attend the 50th year reunion of his high school graduation.
Club Treasurer, Gary, swam the maximum possible nine individual events to score first place in each, all in record times. Gary also swam in a relay team that won gold and broke a record. This gave him 10 gold medals, 10 records and Male Swimmer of the Meet. Gary also broke the Masters Swimming NSW record for the 100m Backstroke. This record had stood for 16 years!
Both swimmers are now looking forward to the rest of 2019 with several more competitions to come starting with the ACT Interclub Masters at Gungahlin on the 16th June.
Also competing in Cairns was Ron Watkins of the Tuggeranong Vikings Club. John swam against Gary and came away with two silver medals.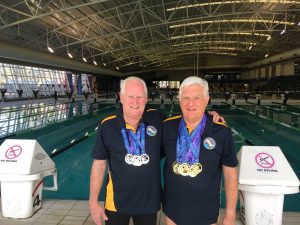 Well done the Water Dragons!
Both of our swimmers results are shown over the page. The full results can be seen at http://portal.msarc.org.au/meets/index.php?EventId=153534&filter=*&split=no&scope=&js=on
MOLONGLO WATER DRAGONS RESULTS

at 2019 GREAT BARRIER REEF MASTERS GAMES

Name
Event
Time
Event  place
NSW Ranking
65-69
John Collis
 50m Backstroke
44.91
2
6
100m Backstroke
1:46.88
2
7
  50m Breaststroke
40.51
1
2
100m Breaststroke
20.84
2
3
200m Breaststroke
3:37.99
2
2
200m Medley
3:32.95
2
2
80-84
Gary Stutsel
 50m Freestyle
36.55
1
1
100m Freestyle
1:28.93
1
1
  50m Backstroke
48.58
1
1
100m Backstroke
1:45.05
1
1
200m Backstroke
4:00.65
1
1
 50m Breaststroke
1:01.77
1
3
100m Breaststroke
2:28.55
1
2
  50m Butterfly
53.27
1
2
200m Medley
4:13.71
1
2
Ron Watkins
 50m Backstroke
57.23
2
2
 50m Butterfly
56.88
2
3
Both John and Gary swam an event about every 30 minutes and Gary's Butterfly leg in the Mixed Medley Relay was swum in 53.49, only 0.22 seconds slower than his individual event.  Ron who was recovering from an injured shoulder was entered in three events but missed his 50m Freestyle swim due to unexpectedly heavy traffic.
Unfortunately Paul Maggs who had intended to swim could not attend as his wife June had to have an operation.