Once again, the Molonglo Megasaurs, a guns-for-hire subset of the Molonglo Water Dragons lashed out on the weekend of 4-5 May to swim for 24 hours non-stop to raise funds for MS Australia.  A hardy team of 15 swimmers lined up to swim their weekend away, raising $2,345 to support people living with Multiple Sclerosis in the process.
This was a mighty effort, by all concerned, including club members Phil Browning, John Collis, Tanya Colyer, Margaret Hadfield, Marg Larkin, Chris Loose, Nerrida McCorkell, Nicole McMahon and Marg Wade.  Also swimming were Tuggeranong Vikings swimmers Denise Druitt and Nicolee Martin, and triathletes Jenn Hammerschmidt, Charlotte Lynch and Ashley Wolff. Other Molonglo swimmers swam with other teams, including Roger Carter, Megan O'Mara and Brendon Tasker.
A number of swimmers swam timed endurance swims during the event, including breast cancer survivor Nicole Mc Mahon who completed 60 minute and 30 minute swims and a 1500metre swim as part of her quest to swim 100,000metres to raise awareness for breast cancer.
The swim was overseen by our mascot Meg the Megasaur, purchased by Phil and Nerrida,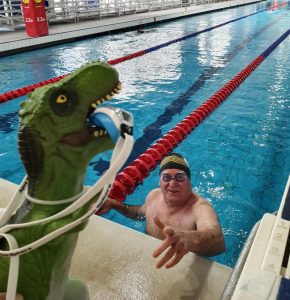 Good on you Megasaurs, you may be mega sore, but you should be feeling really good about yourselves for the good you have done.  Your efforts, and the donations you have generated will provide some help to people struggling with a relentless disease that disables the nervous system.
John Collis
Team Captain
Molonglo Megasaurs