Sunday July 15th was a Sydney winter's day, not like summer but not as cold as a lot of other places we know.
Club President John Collis and fellow Committee member Gary Stutsel joined with eleven other Canberrans to represent Tuggeranong in the NSW/ACT Relay Championships at the Sydney Olympic Park Aquatic Centre.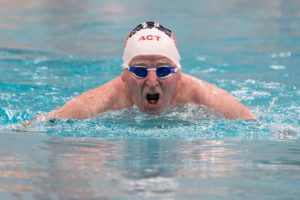 Swum in the dive tank over a 25 metre course the Championships attracted 279 swimmers from 16 clubs. Teams ranged in size from 8 to 39 members with the size of the team determining the number of events each club could enter. There were 18 events spread over six hours and each swimmer was restricted to a maximum of five swims. Tuggeranong with 13 swimmers scored 262 points to come 9th in the club point score. However there were some great swims by the individual teams.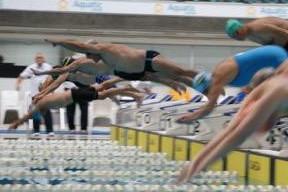 John and Gary swam in both the 4x25m and the 4x50m Medley Relays in the 240-279 age group with Jeanette Droop and top coach Anne Smyth. Both of these teams not only won their event but they recorded the fastest time in the NSW Top 10 and the third fastest time in the Australian Top 10 for 2018. This was despite Johnny-come-lately raising the stress level by being AWOL and almost missing the start of the 4x25m relay. The "boys" also swam in the 4x25m Freestyle (3rd) and 4x50m Freestyle (4th) despite Gary missing the turn and losing two seconds.
This meet was an excellent example of what can be achieved when our two clubs (Molonglo and Tuggeranong) put up a joint effort. We should look to doing this at all meets outside of the ACT.