15 September 2018 over 25m course
This year Tuggeranong Vikings took two big steps to attract NSW swimmers to their annual swim meet. Their date, the 15th September, aligned with the first weekend of Floriade. Then instead of holding their "three swim" Tuggeranong Challenge, they elected to conduct a BPS meet (Masters Swimming NSW Branch Point-Score meet). The BPS is an annual point-score that is conducted over the results of 16 swim meets held between January and December. There are 51 clubs in Masters NSW including the three ACT clubs, and they are divided into four divisions with approximately 13 clubs in each division.
As expected the meet attracted a number of clubs that were keen to add to their 2018 tally. Apart from the three ACT clubs and the Pambula based Sapphire Coast Club there were seven NSW clubs from Division 1, four from Division 2, and two from Division 3 making a total of 17 competing clubs. However probably due to the high cost of local accommodation the numbers from each club were not very high. Wett Ones, the largest visiting club, had 10 swimmers. The other clubs from north and west of Newcastle, the Illawarra, the Blue Mountains and Sydney ranged in numbers from one to eight swimmers. In total there were 89 swimmers competing in up to 4 individual events each and a relay over almost four hours.
Molonglo had a very disappointing contingent with just five men. This was even surpassed by Ginninderra (CISAC pool) with four women and four men and equalled by recently formed Sapphire Coast (Pambula) with five swimmers. Hopefully our numbers were down because it was a Saturday afternoon and many Water Dragons had regular commitments. If there weren't any compelling reasons for the low attendance then it doesn't look good for our time-trial meet at Gunghalin on Sunday 4th November. The Vikings could be excused for feeling we had let them down were it not for the tireless efforts of David Leake who single-handedly filled our time-keeping commitments and Audrey Stutsel who marshalled for the whole meet. John Collis (Judge of Stroke) and Gary Stutsel (Inspector of Turns) were also on duty when they weren't competing.
Our five competitors committed themselves well, helped by the fact they were all in different age groups. This maximised our points with Matt Piroglu (40-44 years) scoring 29 points from 3 events, Nick Manassiev (55-59) 39 from 4 events, John Collis (65-69) 38 from 4 events, Tim Mather (70-74) 40 from 4 events (which was maximum possible) and Gary Stutsel (75-79) 39 from 4 events. As you will see in our full results following, almost all of our swims made the NSW Top 10 for 2018.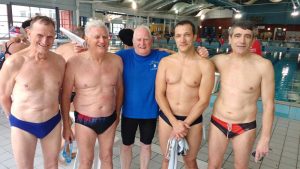 Our outstanding effort of the meet was the 4 x 50m Freestyle relay team of, in order of swimming, Gary Stutsel, Tim Mather, Nick Manassiev and Matt Piroglou the anchorman. Swimming in the 240-279 age group the team which was favoured to win swam alongside main rivals Campbelltown. Our captain John Collis nominated for us to swim slowest to fastest while Campbelltown chose to swim fastest to slowest. Their first swimmer came in a good 10m in front of Gary then Tim slipped further behind. Nick picked up more than Tim had lost, and finally Matt not only caught his oponent but surged past him to finish almost 8 seconds in front. This magnificent effort earned us the maximum 20 points, 2nd ranking in the NSW Top 10 and 5th in the National Top 10.
Our combine total points were 205 which placed us 7th of the17 clubs, but we did even better in the Average Points per Swimmer coming 3rd. This was ahead of both the Vikings who were overall winners and Ginninderra who were 3rd overall.
[views expressed above do not represent the opinions of anyone other the author, Gary Stutsel]
MOLONGLO WATER DRAGONS RESULTS at TUGGERANONG VIKINGS MSNSW MEET

15 September 2018 – Lakeside Leisure Centre 25m course

Men
Name
Age group and place in group
event
time
place
NSW ranking for 2018
Matt Piroglu
40-44                      4th
 50m Backstroke
35.88
2
–
 50m Breaststroke
39.97
1
7
 50m Butterfly
30.05
1
2
Nick Manassiev
55-59                        1st
 50m Freestyle
30.58
1
5
100m Freestyle
1:11.39
1
3
100m Medley
1:28.48
2
5
200m Medley
3:08.55
1
3
John Collis
65-69                       3rd
 50m Backstroke
47.56
2
9
 50m Breaststroke
42.05
1
6
100m Breaststroke
1:33.43
1
4
100m Medley
1:39.73
2
–
Timothy Mather
70-74                      1st
 50m Freestyle
37.46
1
7
100m Freestyle
1:31.21
1
5
200m Freestyle
3:25.08
1
3
 50m Backstroke
48.08
1
5
Gary Stutsel
75-79                       2nd
100m Freestyle
1:39.96
2
5
100m Backstroke
1:49.06
1
4
100m Breaststroke
2:03.33
1
2
200m Breaststroke
5:10.81
1
1
RELAY
Men's 240 to 279
Gary Stutsel, Timothy Mather
200m Freestyle Team
2:17.23
1
2
Nick Manassiev, Matt Piroglu
CLUB POINTSCORES
Total Club Points

(including relays which score double points)

Average Club Points

(total divided by number of swimmers)

club
points
place
club
Average points
place
Tuggeranong
857
1
Oak Flats
43.25
1
Wett Ones
356
2
Campbelltown
41.80
2
Ginninderra (CISAC)
289
3
Molonglo
41.00
3
Ryde
262
4
Tuggeranong
38.95
4
Warringah
218
5
Ryde
37.43
5
Campbelltown
209
6
Warringah
36.33
6
Molonglo
205
7
Ginninderra
36.13
7
Oak Flats
173
8
Wett Ones
35.60
8
Sapphire Coast
157
9
Sapphire Coast
31.40
9
There were 8 other clubs competing that finished as follows in the total points scored:
10th Seaside Pirates (99 points), 11th Blacktown (80), 12th Maitland (75), 13th Wollongong (62),
equal 14th Wests Auburn (37), Raymond Terrace (37), 16th North Shore (36), 17th Blue Mountains (30)