Swimming with 180 other competitors from 30 other clubs the North Canberra / Queanbeyan based Molonglo Water Dragons Club excelled themselves at the Masters Swimming NSW Short Course Championships. Swimmers aged from 18 to 88 travelled from as far west as Perth and as far north as Yamba to compete in the AIS pool on Saturday and Sunday 14-15 October.
Fielding a team of three women and nine men the Water Dragons acquitted themselves well winning the 3rd Division point score with 533 points 237 more than their nearest rival the club. Fellow Canberra clubs also did very well, with south side Tuggeranong second in the 1st division with 1064 points and Belconnen based Ginninderra first in the 4th division with 81 points.
Top performer for the Molonglo team was Mark Carroll who swam five 1st places to win his age group and then led off the 160 to 199 Medley relay team to win their race. The men's teams finished second in three other relay events and fourth in both of their mixed (2 women plus 2 men) event. Others to finish in the top three in their age group were Ed Auzins (3rd), Ross Burden (3rd) and Gary Stutsel (2nd).
In total the team gained 44 individual medals (19 gold, 14 silver, and 11 bronze).
Special mention should be made of Les Worthington and Margaret Larkin who while not swimming spent most of the meet either timekeeping or on the medals stand.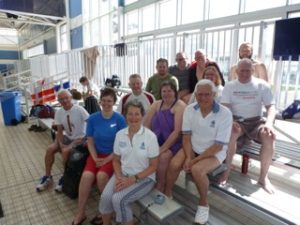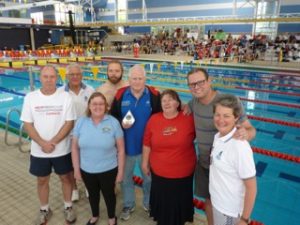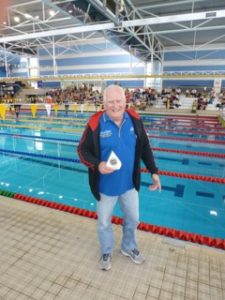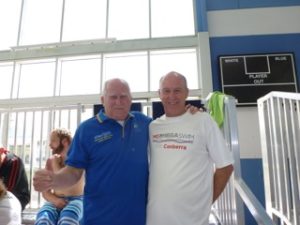 Congratulations to all of these swimmers. Club results of the meet are here. The full results of the meet are here.
MOLONGLO WATER DRAGONS results 4 June 2017 Interclub
Age Group
Name
Event
Time
Place
Points (1st=10, 2nd=9, 3rd=8 4th=7 etc)
NSW Ranking for 2017
Women
35-39
Trinity King
50m Breaststroke
1:01.71
2
9
4
100m Breaststroke
dq
–
–
–
200m Breaststroke
4:42.70
2
9
2
  Place in age group and total points scored (maximum possible 50)
5
18
50-54
Mary Liz Partridge
100m Freestyle
1:33.48
6
5
12
200m Freestyle
3:21.21
3
8
9
50m Backstroke
49.91
6
5
11
100m Backstroke
1:55.01
3
8
5
200m Backstroke
3:59.89
3
8
3
  Place in age group and total points scored (maximum possible 50)
9
34
55-59
Tanya Colyer
200m Freestyle
4:16.38
5
6
12
100m Backstroke
2:26.80
3
8
4
50m Butterfly
1:04.33
3
8
7
200m Butterfly
5:45.13
4
7
4
100m Medley
2:22.84
4
7
11
  Place in age group and total points scored (maximum possible 50)
9
36
Men
30-34
Gavin Atherton
50m Freestyle
27.44
2
9
2
100m Freestyle
1:02.05
2
9
2
200m Freestyle
2:21.24
1
10
2
100m Butterfly
1:15.18
1
10
1
  Place in age group and total points scored (maximum possible 50)
4
38
35-39
Ed Auzins
100m Freestyle
1:06.20
1
10
3
50m Breaststroke
35.32
1
10
2
100m Breaststroke
1:21.01
1
10
2
50m Butterfly
30.01
1
10
3
 Place in age group and total points scored (maximum possible 50)
3
40
45-49
Mark Carroll
50m Backstroke
32.81
1
10
1
200m Backstroke
2:33.42
1
10
1
100m Breaststroke
1:19.31
1
10
1
100m Medley
1:09.03
1
10
1
200m Medley
2:37.60
1
10
1
 Place in age group and total points scored (maximum possible 50)
1
50
55-59
Ross Burden
100m Freestyle
1:13.49
1
10
8
200m Freestyle
2:46.30
1
10
5
100m Breaststroke
1:41.27
2
9
3
100m Medley
1:26.87
1
10
5
200m Medley
3:18.92
3
8
3
 Place in age group and total points scored (maximum possible 50)
3
47
Age Group
Name
Event
Time
Points
NSW Ranking for 2017
Men cont.
65-69
Tim Booth
  50m Freestyle
34.97
4
7
12
100m Freestyle
1:17.66
3
8
9
200m Freestyle
2:55.01
3
8
4
100m Medley
dq
–
–
–
 Place in age group and total points scored (maximum possible 50)
12
23
John Collis
50m Backstroke
44.30
2
9
7
50m Breaststroke
39.98
2
9
4
100m Breaststroke
1:31.69
2
9
3
200m Breaststroke
3:32.88
2
9
2
100m Medley
1:31.39
2
9
9
 Place in age group and total points scored (maximum possible 50)
4
45
75-79
Paul Maggs
50m Freestyle
43.39
3
8
6
100m Freestyle
1:50.12
2
9
7
 Place in age group and total points scored (maximum possible 50)
5
17
Gary Stutsel
50m Freestyle
34.99
1
10
1
50m Butterfly
49.76
1
10
1
100m Butterfly
2:11.48
1
10
1
100m Medley
1:56.33
2
9
2
200m Medley
4:13.16
1
10
1
 Place in age group and total points scored (maximum possible 50)
2
49
80-84
Geoff Llewellyn
50m Freestyle
49.92
2
9
4
100m Freestyle
1:57.44
2
9
2
200m Freestyle
4:22.45
3
8
3
100m Backstroke
2:55.22
3
8
3
200m Backstroke
Dq
–
–
–
 Place in age group and total points scored (maximum possible 50)
4
34
RELAY EVENTS
MEN'S 4 x 50m FREESTYLE
160 to 199 age group
Ross Burden, Ed Auzins, Mark Carroll, Gavin Atherton
1:55.22
2
18
4
280 to 319 age group
Paul Maggs, John Collis, Gary Stutsel, Tim Booth
2:37.61
2
18
5
MIXED 4 x 50m MEDLEY
200 to 239 age group
Mary Liz Partridge, Trinity King, John Collis, Gary Stutsel
3:11.89
4
14
11
MEN'S 4 X 50M MEDLEY
160 to 199 age group
Mark Carroll, Ed Auzins, Gavin Atherton, Tim Booth
2:11.77
1
20
6
280 to 319 age group
Gary Stutsel, John Collis, Ross Burden, Geoff Llewellyn
2:59.60
2
18
4
MIXED 4 x 50m FREESTYLE
240 to 279 age group
Tanya Colyer Mary Liz Partridge Gary Stutsel Ross Burden
2:52.30
4
14
11