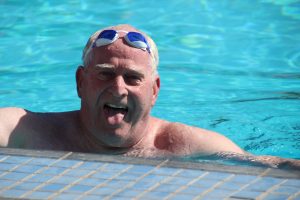 The first ACT mini swim meet for 2018 was held at Queanbeyan Pool, in the 25m pool, on Sunday 25 February. The meet was scheduled for the 50m pool but this was the day the skies opened up and dumped a month's rain on us before mid-morning. It was so bad that areas near O'Connor shops had to be evacuated, Majura Parkway was impassable and our Mary Liz had to detour around the Tuggeranong Parkway and Hindmarsh Drive to get to the pool.
The rain eased off by warm-up time, but it was so cold and threatening that pool management allowed us to move inside into the 25m pool where it was warm and comfortable. Although the meet was held at Queanbeyan it was hosted by Tuggeranong Vikings at their request so they had a longer break before their regular Tuggeranong Challenge due to be held in September. Swimmers retired to the nearby bowling club for dinner after the meet.
The hosts, the Vikings, once again showed their superiority by scooping all three pointscores, Women's, Men's and Overall, while the relays saw both clubs score equal points. We were delighted to welcome two swimmers, Pat Helmore and Bruce Williamson from the newly formed Sapphire Coast Club, which is based at Pambula but swims in multiple venues, including Bega. Bruce has asked that any members going down their way look them up. Pat who hasn't been seen for some years used to swim for the Hills Club in Sydney's north.
Molonglo Water Dragons were represented by seven women and six men. For the first time in memory the women (Tanya Colyer, Alison Compston, Margaret Hadfield, Chris Hayhoe, Trinity King, Mary Liz Partridge and Susie Prest) outscored the men (Tim Booth, Mark Carroll, Roger Carter, Chris Loose, Paul Maggs and Gary Stutsel). Due to the small numbers all of our swimmers finished in major places. It was particularly warming to see newcomer Roger Carter finish with 3 firsts and a second from his four swims.
Speaking of which there are two things we must do to beat the Vikings. The first is for more of us to turn up and compete. As you will see from the results following you don't need to be a champion, just get in and swim. The second is to ensure that all of those who do swim compete in the maximum number of events allowed in this meet four individual and one relay.
While the full results for all swimmers are available on both the National Results Portal and the MSNSW website, the times and placings for each of the Water Dragons follow below. Of particular interest are the swimmers' positions in the New South Wales Top 10 (as at the end of February 2018).
See details here:
MOLONGLO WATER DRAGONS RESULTS at ACT INTERCLUB