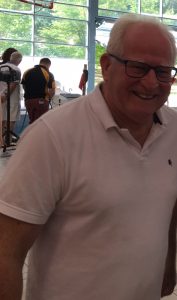 Masters Swimming has selected John Collis as Official of the Month for the outstanding work he does in volunteering to make our club run like clockwork. Congratulations and well done John!
John Collis has been a Water Dragon for many years and is one of the most regular attendees at our training sessions. He is always cheerful and enthusiastic and has introduced a number of new members to the Club. John has also served for a number of years on the Club Committee in various roles and is always quick off the mark to volunteer to take on any task which needs to be done. After putting in a major effort, John last year mastered the software used to conduct swim meets and successfully set up the software for our 2015 mini meet with the Tuggeranong Vikings.
As a club we have a strong coaching capability but this year John has stepped forward to go through the program to qualify as a coach and thereby even further strengthen our ability to provide good coaching to our members. John also comes forward and bakes birthday cakes for members which are enjoyed at our regular après-training dinners.
Roles John has taken on in the past include Merchandise Manager, Club Treasurer and Web Master. As Web Master John was responsible for the design of and content on our club website. Without any fuss John recently assumed responsibility for doing the banking while our Treasurer, Gary Stutsel, was recovering from surgery.
John is also know for his great sense of humour and his terrible puns! Once again, well done.