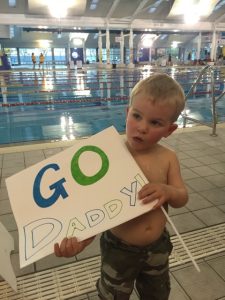 The Water Dragons team of three women and 12 men acquitted themselves well at the interclub swim held at Tuggeranong Pool on Saturday afternoon the 18 June 2016.
With just a few more swimmers to make up say, three mixed relay teams (two men and two women per team) we would have been in a position to challenge the dominance of the Tuggeranong Vikings. As it was, our men outscored their men by 449 points to their 148. In the women's events the Vikings scored 555 to our 115 and in the relay events Vikings outscored the Water Dragons 80 points to 60. We won the three men's relay events and Vikings won the two women's and two mixed relays.
Overall the scores were Vikings 743, Molonglo 564 and Ginninderra 10. We look forward to making the results closer in the October competition. The results may be viewed at
www.mastersswimmingnsw.org.au/Competition/Results/MSNSW-Swim-Meet-Results
We were responsible for providing refreshments at the pool and Viri Silva Perez did most of the buying and organising. John Collis baked some scrumptious slices and Peter Coggins organised the urn and the hot drinks. Poolside John Collis worked as Judge of Stroke – checking swimmers were doing the right stroke, Audrey Stutsel did the marshalling for the three hours of the meet, Alan Ford started all of the events and Gary Stutsel refereed between his swims ably assisted by Jodie Burke of Blacktown Club. The Vikings provided the rest of the officials and this is an area where we could lift our game with help particularly from those who choose not to compete.
I am sure all swimmers will be interested in seeing how we are performing against our peers from NSW clubs in 2016.
Women
Age Group
Event
Time    
Place in NSW in 2016
Viri Silva Perez
30-34
50m Freestyle
49.00
14th
50m Backstroke
54.76
9th
50m Butterfly
54.09
8th
100m Freestyle
1:47.58
10th
Mary Liz Partridge

Currently ranked 8th with National Swim time

50-54
50m Backstroke
52.81
13th
100m Backstroke
2:01.55
9th
200m Backstroke
4:13.31
7th
400m Freestyle
7:22.68
10th
Tanya Colyer
55-59

50m Backstroke
1:08.76
16th
200m Backstroke
5:07.55
7th
50m Butterfly
1:09.93
13th
400m Butterfly
11:41.33
2nd
Men
Gavin Atherton
30-34
50m Butterfly
   32.57
3rd
200m Ind. Medley
2:47.84
3rd
400m Freestyle
5:22.53
3rd
Adam Cowell
35-39
50m Freestyle
31.30
6th
50m Butterfly
37.36
4th
50m Backstroke
38.28
2nd
100m Backstroke
1:29.09
2nd
David Specker
50-54
50m Freestyle
34.28
27th
100m Freestyle
1:27.34
22nd
50m Backstroke
44.96
11th
Richard Whiteley
50-54
50m Freestyle
33.84
24th
200m Freestyle
2:44.91
14th
400m Freestyle
5:52.64
10th
Ross Burden
55-59
100m Freestyle
1:14.99
11th
200m Freestyle
2:48.80
9th
400m Freestyle
6:07.34
4th
50m Backstroke
46.16
5th
Nikolai Manassiev
55-59
50m Freestyle
31.75
7th
100m Freestyle
1:14.02
10th
400m Freestyle
6:21.86
5th
200m Ind. Medley
3:21.09
6th
John Collis

Currently ranked 4th with National Swim time

60-64
50m Freestyle
36.90
19th
50m Breaststroke
41.59
4th
100m Breaststroke
1:41.50
7th
Tim Booth
65-69
50m Freestyle
34.45
10th
200m Freestyle
2:53.36
4th
400m Freestyle
6:05.47
3rd
Peter Coggins
65-69
50m Freestyle
40.15
16th
100m Freestyle
1:38.73
15th
200m Freestyle
3:59.77
13th
Paul Maggs
70-74
50m Freestyle
42.78
9th
100m Freestyle
1:49.31
11th
John Oke
75-79
200m Freestyle
4:06.50
9th
400m Freestyle
9:05.81
5th
50m Butterfly
1:01.67
6th
100m Backstroke
2:31.84
7th
Gary Stutsel
75-79
50m Freestyle
35.90
4th
100m Freestyle
1:45.07
8th
50m Backstroke
53.30
5th
50m Butterfly
50.90
3rd
Congratulations to all of these swimmers. All members should note that recorded times they swim on club nights and at all interclub meets are eligible for both the NSW and National Top 10 Lists.
Relays

Adam Cowell

Ross Burden

Richard Whiteley

Gavin Atherton

Men's 160-199
4 x 50m Freestyle
2:07.92
3rd
Tim Booth

Peter Coggins

John Collis

Nik Manassiev

Men's 240-279
4 x 50m Freestyle
2:30.26
4th
Paul Maggs

John Oke

Gary Stutsel

David Specker

Men's 280-319
4 x 50m Freestyle
2:42.78
5th
Our three ladies, Viri, Mary Liz and Tanya teamed with Vikings' David Bale to swim in the Mixed Relay. Sadly they were not eligible for points as all four swimmers must be competing for the same club.
Compiled by Gary Stutsel