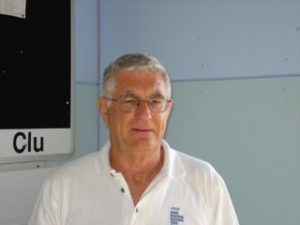 Molonglo Water Dragons treasurer, Gary Stutsel, looks to be on the way to recovery following an horrendous 12 months.
In the 2014 calendar year Gary recorded the fastest time in Australia in his age group in 38 different events. This dropped to a mere three in 2015 before he was hit by family tragedy in April and then a total knee replacement in his right leg in May.
Now 12 months after the operation he has started to bounce back. Competing for Tuggeranong Vikings at the Ettalong Meet on Saturday 21 May, Gary swam the fastest 25m Freestyle for 2016 (15.89 seconds) and the fastest 50m Freestyle (34.88 seconds) in his age group. He completed his maximum allowable four individual swims with 2016's second fastest 200m Freestyle (3 minutes 18.40 seconds) and 2016's third fastest 100m Freestyle (1 minute 24.66 seconds).
Swimming with Carolyn Makin and Katrina Burgess, Gary said he was surprised at how popular the competition was. 230 swimmers competed in over 150 heats. Starting at 10.30am they finished right on time at 4.30pm. To achieve this there was no lunch break so all the hungry swimmers retired to the sausage sizzle after the last event.
As well as swimming in his four events Gary officiated for five of the other 12 events. He said that all three swimmers are looking forward to swimming with their team mates and officiating at the ACT Interclub meet to be held on Saturday 18 June at the Tuggeranong Leisure Centre. At this meet Gary will be swimming for Molonglo Water Dragons.