MOLONGLO WATER DRAGONS RESULTS at ACT INTERCLUB
4 November 2018 – 25m course at Gunghalin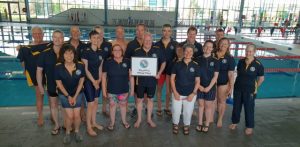 Resplendent in our new Water Force polo shirts (see group photo), we Water Dragons were proud hosts of the meet, and rightly so. For the first time since October 2016 we came out overall winners in the interclub point score. The main reason we topped the points table was that we had more swimmers (17 of a total 39). This is one of the key messages I keep banging on about. That is, the way to win these meets is to 1) outnumber the opposition, 2) enter the maximum possible events, and 3) don't compete against one another. We managed to almost achieve all three of these objectives, plus we had a wider spread of age groups than the Vikings.
The meet was held over a 25m course in the deep end of the 50m pool. The pool management exceeded our expectations by reserving the whole 8 lanes for our use, even though we only competed in three of these. With 39 competitors and starting at 3pm we managed to get through the 12 events by 5.50pm. After the meet a group of about 16 swimmers and helpers retired to the Raiders Club for what were oversized meals and drinks. We were all on our way home by 8pm.
It was good to see Vikings support the meet so well with 14 swimmers because several of their members left the next day to compete in the Pan Pacific Masters Games in Southport. We extended a very big thanks to all the Vikings who helped to run the meet, namely Annette Britten, Katrina Burgess, Leisa Cass, Nick Dando, Bill Eversham, Greg Gourley, Caroline Makin, Anne Smyth and Pete Sharman. It is time we started carrying our share of the officiating load. However we did have a big commitment on the day from non-swimmers Carol Croce, Denise Druitt, Emile Hofsink, Marg Larkin, David Leake, Lenny Partridge, Audrey Stutsel and Les Worthington while Roger Carter, John (the baker) Collis,  Chris Hayhoe, Trinity King, Paul Maggs, Mary Liz Partridge, Greg Reynolds and Gary Stutsel all helped while they weren't swimming.
It was pleasing to see that the Ginninderra Marlins are getting stronger with six, mostly younger, swimmers and that Bruce Williamson of the newly formed Sapphire Coast Club was able to compete again, and was joined by 18 year old Laura Collins. With summer holidays coming up Bruce has asked that any members going down Pambula way look up Sapphire Coast Masters. It was also a welcome bonus to note that many of our swimmers have improved their times since the earlier 2018 meets.
The full results can be seen on the National Results Portal and on the MSNSW website The points table and the times and placings for each of the Water Dragons follow below. Of particular interest are the swimmers' positions in the New South Wales Top 10 (as at the 4 November 2018).
CLUB POINTSCORES
Combined including relays (whose points are double)
Place
Club
Number of swimmers
Points
1
Molonglo (Water Force)
17
708
2
Tuggeranong (Vikings)
14
609
3
Ginninderra (Marlins)
6
236
4
Sapphire Coast
2
79
MOLONGLO WATER DRAGONS RESULTS at ACT INTERCLUB
Women
Age Group
Name
Event
Time
Event

place

NSW Ranking 2018
25-29
Annika Hofsink
 50m Freestyle
41.10
1
10
100m Freestyle
1:27.72
1
7
100m Backstroke
1:41.96
1
9
 25m Butterfly
20.84
1
1
35-39
Trinity King
 25m Breaststroke
26.20
2
2
 50m Breaststroke
57.68
3
6
100m Breaststroke
2:04.38
2
4
200m Breaststroke
4:26.94
2
2
50-54
Mary Liz Partridge
 25m Backstroke
24.62
1
2
 50m Backstroke
51.58
1
9
100m Backstroke
2:00.33
1
3
 25m Butterfly
27.18
2
5
55-59
Tanya Colyer
100m Freestyle
2:15.57
1
–
 25m Backstroke
32.68
2
8
200m Butterfly
5:57.23
1
5
100m Medley
2:33.46
1
–
60-64
Margaret Hadfield
100m Freestyle
1:43.34
1
–
200m Freestyle
3:37.38
1
9
 50m Backstroke
1:00.64
1
–
100m Breaststroke
2:02.55
1
4
65-69
Ann Bromwich
 50m Freestyle
54.88
1
–
100m Freestyle
2:09.11
2
–
 25m Butterfly
29.67
2
7
100m Medley
2:20.96
1
–
Chris Hayhoe
100m Freestyle
2:00.36
1
–
200m Freestyle
4:08.64
1
–
 25m Breaststroke
38.36
1
–
 25m Butterfly
28.90
1
6
Men
45-49
Greg Reynolds
 25m Freestyle
15.03
1
5
 25m Backstroke
18.47
1
1
55-59
Ross Burden
200m Freestyle
2:49.76
1
6
 25m Backstroke
19.70
2
4
 50m Breaststroke
48.20
1
–
 25m Butterfly
17.07
2
3
Nik Manassiev
 50m Freestyle
30.85
1
5
100m Freestyle
1:10.53
1
6
100m Medley
1:25.87
1
5
200m Medley
3:08.22
1
4
MOLONGLO WATER DRAGONS RESULTS at ACT INTERCLUB
Men
Age Group
Name
Event
Time
Event place
NSW Ranking for 2018 ytd
60-64
Roger Carter
 50m Freestyle
46.05
1
–
100m Freestyle
1:43.09
2
–
200m Freestyle
3:52.06
1
–
Gary Simms
100m Freestyle
1:22.56
1
–
 25m Backstroke
23.71
1
7
 50m Breaststroke
53.78
1
–
 25m Butterfly
22.27
1
–
65-69
Tim Booth
 25m Freestyle
16.02
2
7
 50m Freestyle
35.82
1
–
200m Freestyle
2:59.64
1
7
 25m Butterfly
20.09
2
8
John Collis
 25m Freestyle
17.06
3
–
 25m Breaststroke
18.31
1
4
 50m Breaststroke
40.34
1
5
100m Breaststroke
1:33.89
1
5
75-79
Paul Maggs
 25m Freestyle
19.15
2
7
 50m Freestyle
43.98
2
–
100m Freestyle
1:49.65
2
8
200m Freestyle
4:29.36
1
6
Gary Stutsel
 25m Freestyle
16.49
1
1
 50m Freestyle
36.24
1
3
100m Freestyle
1:28.93
1
5
 25m Butterfly
21.48
1
2
85-89
Geoff Llewellyn
 25m Freestyle
22.62
1
2
 50m Freestyle
54.17
1
2
100m Freestyle
2:04.65
1
1
200m Freestyle
4:32.75
1
1
RELAYS
Women 160-199
Mary-Liz Partridge, Trinity King,
4 x 25m Medley
1:32.23
2
4
Annika Hofsink, Marg Hadfield
Men 200-239
Greg Reynolds, Gary Simms,
4 x 25m Medley
1:15.11
1
6
Nik Manassiev, Tim Booth
Men 280 to 319
Geoff Llewellyn, John Collis,
4 x 25m Medley
1:31.41
1
5
Ross Burden, Gary Stutsel
Mixed 240-279
Ann Bromwich, Paul Maggs,
4 x 25m Medley
1:51.80
1
8
Chris Hayhoe, Roger Carter