On Saturday 15th and Sunday 26th the ACT/NSW Long Course (50m pool) Championships were held in the AIS Pool. 236 swimmers competed over the weekend coming from the Far South Coast to as far north as Yamba. 20 of the 236 came in from interstate clubs as this even was part of the National Swim Series which is held over a calendar year across all states in specified swim meets.
Molonglo Water Dragons fielded 11 swimmers plus one volunteer, Carol Croce, who helped both with the medals table and the timekeeping which used automatic touch pads (AOE).
Our 11 swimmers minus Nik Manassiev who could only avoid work on the Saturday are pictured below. They are:
Front row (left to right) Gary Stutsel, Gavin Atherton, Mary-Liz Partridge, Marg Larkin
Middle row (left to right) Geoff Llewellyn, John Collis (club captain), Carol Croce, Mike Peedom.
Top Row (left to right) Tanya Colyer, Tamarind Smart, Chris Hayhoe.
As well as competing in their individual event (see results following), our eleven swimmers contested 6 relay event with one team in each of the women's, men's and mixed (two women plus two men) freestyle and medley events. Our relay teams scored 92 points (relays score double points for all placings, starting at 20 for first then 18 for 2nd, 16 for 3rd, right down to 2 for teams finishing 10th or after.
This was almost a quarter of all the teams points from just 6 events and shows that for future meets the club needs to concentrate on entering as many relays as possible. Some highlights of the weekend were, our Men's freestyle relay coming from behind to win and just missing the 22 year old state record by a second; Geoff Llewllyn scooping the pool in his age group to gain a maximum possible 50 points; and every one of our 11 swimmers winning at least one medal.
Overall the team scored 415 points to come a close 2nd to new club Woden in Division 4 of the interclub point scores; 7th overall; and 7th in the average points scored per swimmer. This last achievement poses a challenge for our coaches in introducing new strokes to all swimmers so we can all broaden our repertoire to swim the maximum of five events per swimmer. We have two years before the meet returns to Canberra so we need to get organised soon.
MOLONGLO WATER DRAGONS RESULTS at NSW LONG COURSE CHAMPIONSHIPS15-16 October in AIS 50m pool
Women
Men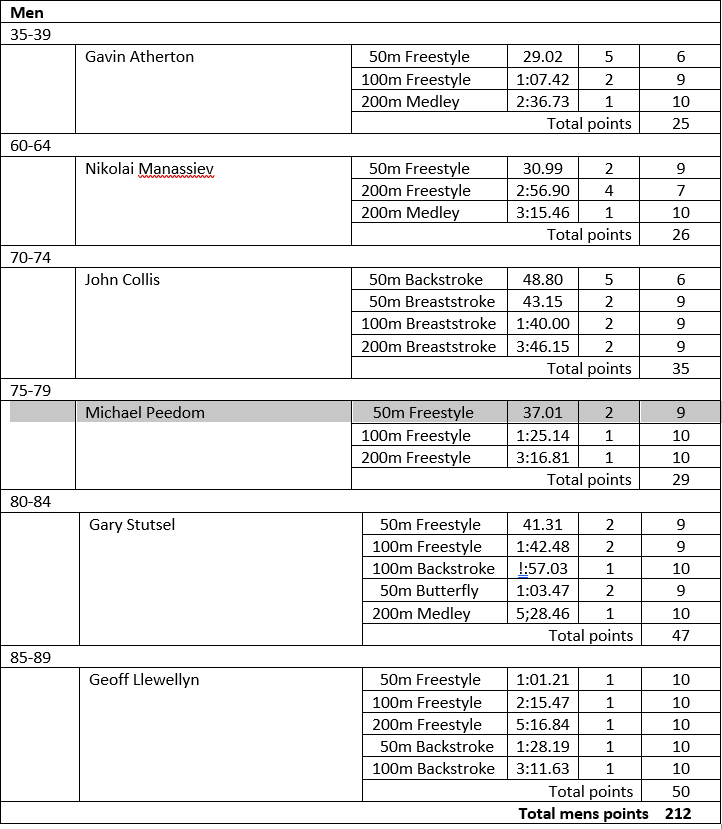 Relays
Total Club Points 415